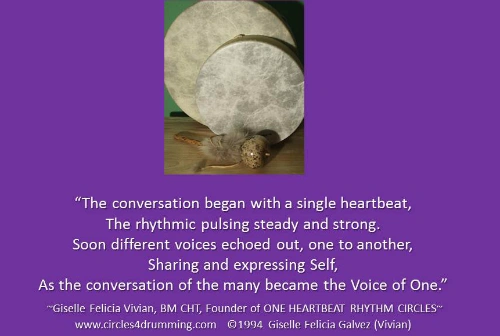 DRUMMING… MORE THAN JUST FUN
By Giselle Felicia Vivian, BM CHT
Copyrighted 2011,2006 All rights reserved.
We all share in the natural rhythmic experience of our heartbeats and breath. We live in a world beating in rhythm, from the music we listen to, the sound of the car's wiper blades on a rainy day, the staccato of a jackhammer, or the trill of a small bird. Rhythm is everywhere.

When we begin to drum, we begin to get back in touch with our essential selves and reconnect to our personal life rhythms. The longer we drum together, the more we begin to entrain to each other and co-create a rhythmic container for unity, community, connection, collaboration and celebration with others that leaves behind our differences and instead, reminds us how much we are alike. With the support of a conscious rhythm-based event facilitator, group drumming events allow us to come together in a safe, fun and enjoyable way, sharing the unfolding spontaneous musical journey, and/or, the achievement of other non-musical goals. You don't need to own any percussion instruments because they are often provided for use during the event.

Whether you drum alone or in a group, drumming can be a fun and beneficial activity. It can be a tool to non-verbally vent stress and pent-up emotions, express your creative spirit, and help you assess and re-establish a healthy life rhythm. This activity has been so popular because it is accessible to everyone and requires no previous skills. During a drum circle, we begin by establishing a basic pulse. After you have selected an instrument to play, you can join in the drum call by matching the pulse being played, echoing it, or have fun making up your own part. From that point on, just remain conscious of the pulse of the moment and create a rhythm that flows easily within it. There is no right or wrong. This is different from cultural drumming where traditions are observed and specific parts are dictated by the song.

Since each person is unique, our own individual rhythms will vary. When we drum with intention and awareness, we can find the rhythms that make us feel good, relax us and/or energize us. This awareness can transfer to the pace of our daily life activities and support creating a healthier personal life rhythm.

Giselle Felicia Vivian, BM CHT Professional Drum Circle Facilitator, Music Therapist and HealthRHYTHMS Facilitator offers group and individual rhythm-based programs to meet a variety of interests. One Heartbeat Rhythm Circles is a program of ONE HEARTBEAT. Learn more at www.circles4drumming.com and about her other services at www.gisellefeliciavivian.com,
Special Event Facilitation for Private Parties & Organizations
Lessons Playshops for Individuals of all ages!
ZOOM Facilitation is now being offered for your Private/Family Gatherings and Groups!

Contact us for more information about these programs and to discuss event planning needs.
Click here
The COVID-19 outbreak has meant changes for us all. We are happy to announce that we are ready to offer group facilitation via the ZOOM platform to support connection, stress release, creative expression and fun for all ages. Sure, we'll have to make some adaptations to work best with the limits of the technology, but the good news is we can come together in community once again.
HOW TO PARTICIPATE

Contact Giselle Felicia Vivian of One Heartbeat at 850-6750 during business hours, or email circles4drumming@gmail.com to request follow-up via email.
Register as requested per event listing on this site at https://lu.ma/one-heartbeat, or as directed for personalized sessions. All information will be sent to you via email after registration/booking.


Some basic tips for participation in our online activities:


1. Please allow extra time before our start time to sign-in to the event. If you wish, you can download the meeting app appropriate for your device at www.zoom.us If this is your first time using the platform, you can check out the tutorials.


2. You will need an internet connection, a webcam, a headset or earbuds with mic(preferred) or built in mic for desk or laptops. If you are joining via the phone app, please join using video so you can enjoy greater connection with other participants. You'll need a secure way to position your devices so that you are hands-free when it's time to drum.

3. Because of the lag time/latency found on all online meeting platforms, you will be muted as we drum all together. You will be un-muted by the host or invited to un-mute yourself as appropriate to the program activity. Be sure to provide permission upon registration. We will have moments to connect together when all participants will be able to share. Please wait till you are invited to share.


4. Be sure you are joining from a room that allows for quiet and privacy. We want to eliminate any background noise that may be heard and disrupt those participating. Using a headset or earbuds with mic will help. Otherwise, you may be muted by the faciliator.

Finally, Zoom-bombing will not be tolerated. You will be kicked out of the meeting and banned from further activities. You will forfeit your registration fees.


Thank you for your support via the "new normal" practices. Be sure to check out my other site, if you need healing/coaching support. Visit www.gisellefeliciavivian.com


Blessings and continued prayers for your well-being and a better world for all as we move forward day by day!

RHYTHM TOOLS FOR EMPOWERMENT AND PLAY!
Below are some of the rhythm instruments available at our events. Over the years we have enjoyed products from these manufacturers: Remo, Toca, Boomwhackers, and other miscellaneous companies. Instruments have also been made, including tube drums and shakers, and recycled material percussion.



Here are some of the NM venues, ONE HEARTBEAT RHYTHM CIRCLES TM has served over the years:
Albuquerque Marriot Pyramid North / Courtyard Marriot Albuquerque / Journal Center / Hotel Albuquerque at Old Town
Hilton Garden Inn Albuquerque / Journal Center/Howard Johnson Hotel and Conference Center / Sheraton Albuquerque Uptown / Tamaya Resort
Glorietta Lifeway Conference Center / Sunrise Springs Retreat Center
Barelas Day Care Senior Center / Bear Canyon Senior Center / Highland Senior Center / Los Volcanes Senior Center
Manzano Mesa Multi-generational Center / North Domingo Baca Multi-generational Center
North Valley Senior Center / Palo Duro Senior Center / Share Your Care at North Valley, Los Volcanes, St. Elizabeth's, Rio Rancho
Presbyterian Kaseman Hospital / Lovelace Women's Hospital / Casa Esperanza, UNM / Children's Psychiatric Hospital, UNM

Spiritual Renewal Center / First Unitarian Church of Albuquerque / Unity Spiritual Center of Albuquerque / Church of the Good Shepherd
Guitar Center Albuquerque / Wild Oats Academy / Private Residences in Albuquerque and Santa Fe/
Montgomery Park / Taylor Park